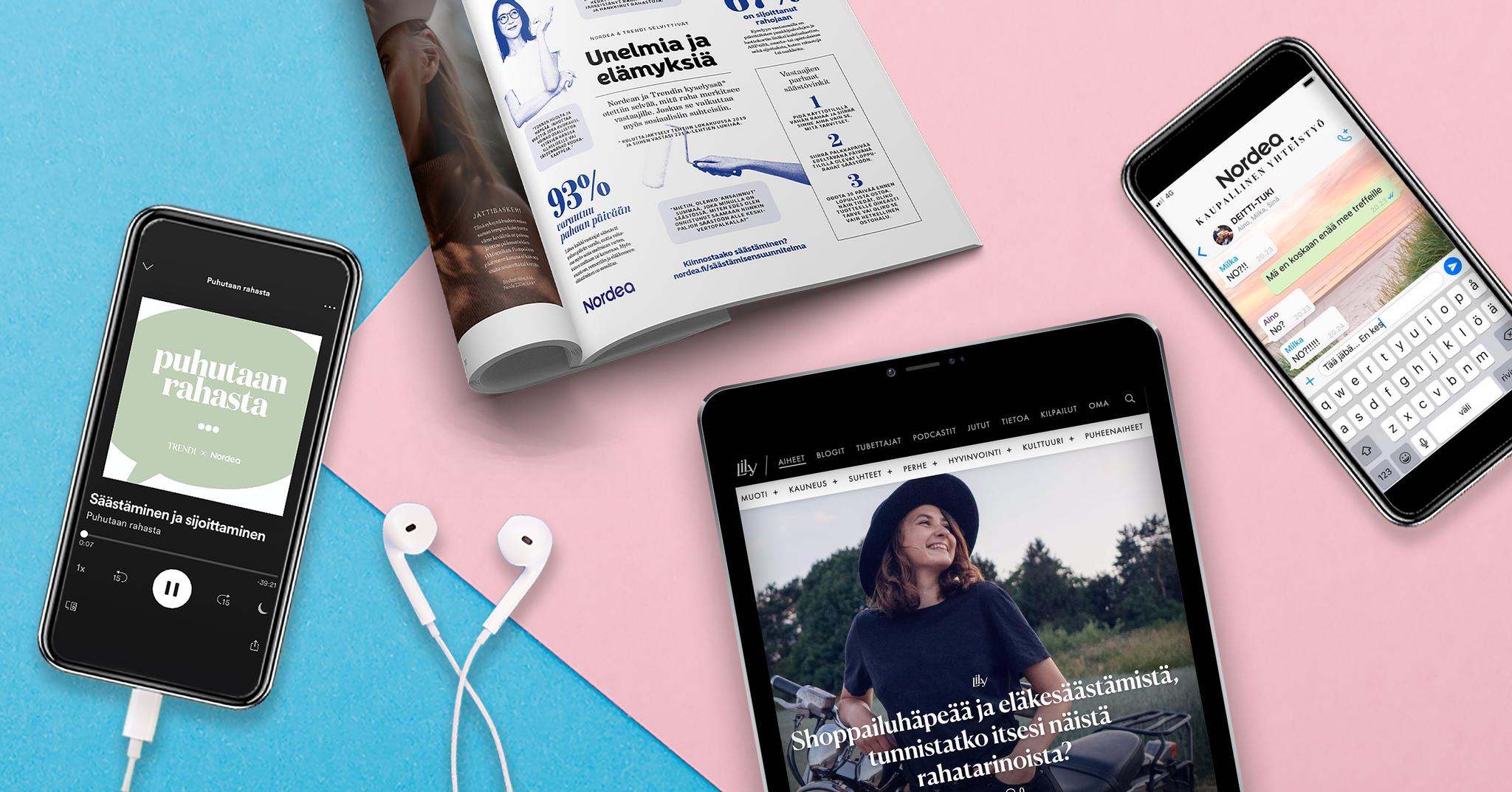 Nordea and A-lehdet were granted an Editkilpailu award for their cross-media native marketing – 'An elegantly designed and socially important campaign'
Nordea and A-lehdet were granted an Editkilpailu award for their cross-media native marketing – 'An elegantly designed and socially important campaign'
Nordea and A-lehdet have won the award for Best Marketing Solution of the Year in Magazine Media at the Editkilpailu competition.
When naming the Marketing Solution of the Year, the jury placed special emphasis on the successful use of cross-media magazine advertising. The prize was awarded for the creative, cross-media native advertising campaign that A-lehdet designed for Nordea.
'Nordea managed to use its campaign to talk to millennial women about money and banking, topics often thought difficult or uninteresting, in a fantastically ordinary way that was easy to relate to. The methodology took into account the way that the target group uses media, and the comprehensive approach did justice to the important topic. Native articles, influencer collaboration, a print advertorial, a podcast and a chat fiction drama were used to discuss how to manage your finances from various angles. An elegantly designed and socially important campaign,' the jury commented its decision.
Catching the attention of a busy millennial is no easy task for a marketer. Millennials tend to think carefully how they spend their time and enjoy consuming media content that brings joy to their hectic lives and offers answers and new ideas.
'The solution was brilliantly able to account for the way in which the target group uses media and could be reached. The useful content that was easy to absorb, an influencer that the target group could identify with and the use of humour helped create a new image and make the brand easier to approach. The campaign made banking, investing and saving more understandable and familiar for the target group,' says Nordea's Business Developer Camilla Nurmilehto.
'We at A-lehdet create commercial native content with the same passion as we do any other journalistic content. We provide our clients with diverse and innovative native advertising solutions that have the intended effect, and will continue to do so in the future,' says Sales Group Manager Katri Abrahamsson from A-lehdet.
The Editkilpailu journalism competition, organised by Aikakausmedia ADS, grants annual recognition to the best magazine media operators and bold advertisers. The winners were announced on Thursday 19 March 2020.
A-lehdet, Sales Group Manager Katri Abrahamsson
katri.abrahamsson@a-lehdet.fi, +358 (0)50 4144 379