Demi and Image received awards in the magazine competition Edit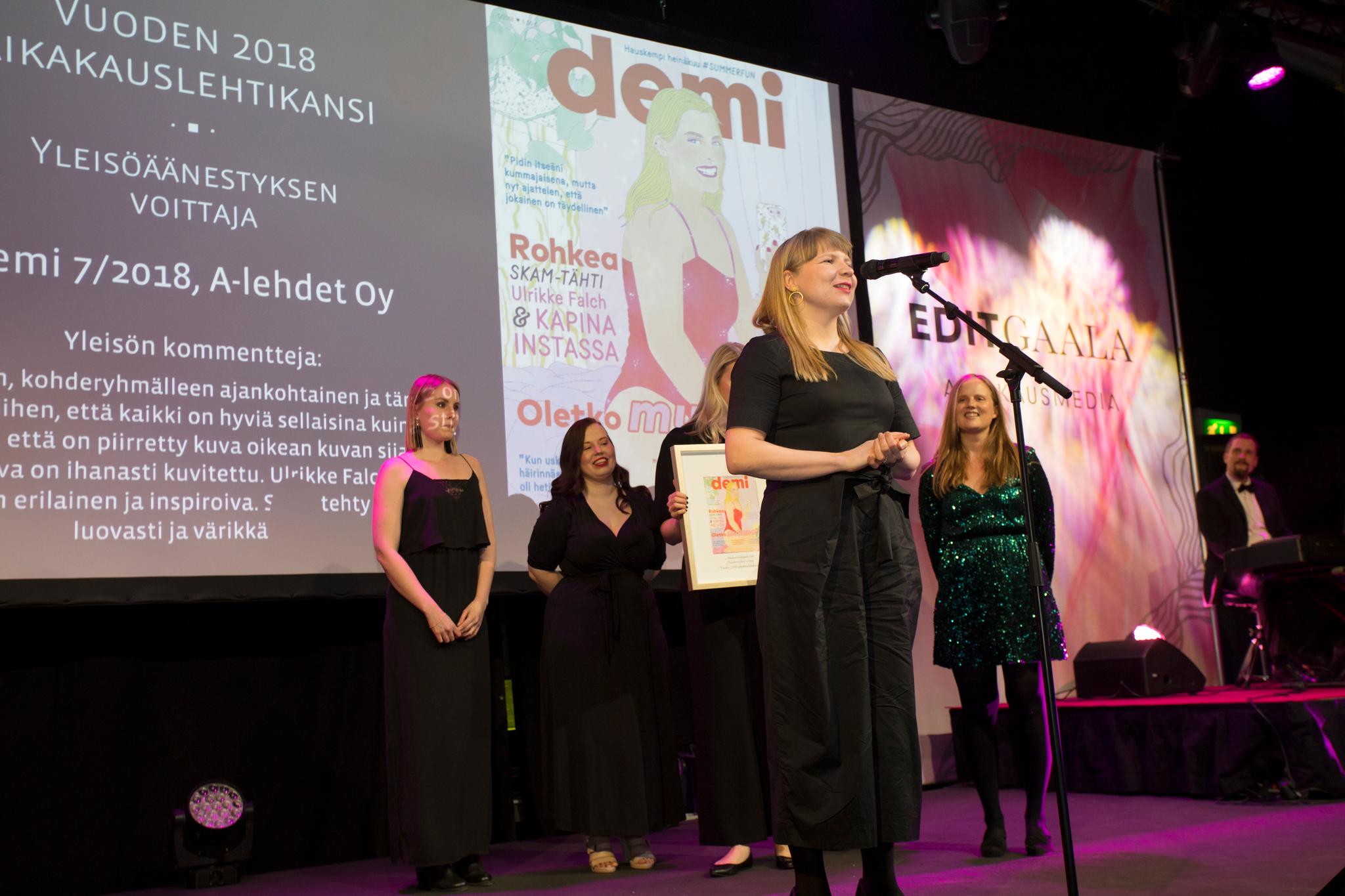 Demi and Image received awards in the magazine competition Edit
The winners of Aikakausmedia's Edit 2018 competition were announced at a gala held on Thursday 4 April at Event Centre Koskenranta. Demi received awards in two categories, and Image won the prize for Best Visual Appearance in 2018. In addition to this, Reetta Räty was awarded a prize as the Best Magazine Journalist of 2018.
The cover of Demi's issue number 7/2018 was voted the Best Cover in 2018.
Some of the voters' comments about the cover:
A one-of-a-kind idea to use a drawing instead of traditional photographs as the cover image!
It had a great message and the picture was just fantastic!
You don't need to be slim to be pretty. The cover picture makes a positive statement about different body types.
This cover is playful and simultaneously also very beautiful and artistic!
The Pirkka issue number 11/2019, produced by the A-lehdet content studio, came third in the audience vote.
Demi's chat fiction drama Pientä säätöä received an award for Best Digital Act in a Magazine in 2018.
Finland's first chat fiction drama Pientä säätöä is an excellent example of a means of approaching young target groups in a way that is natural to them and by using their own channels. Telling a story through WhatsApp messages on a smartphone screen is a simple yet successful video format. Young people get hooked on stories that they can identify with. Through commercial collaboration, the drama also got content related to a topical theme important to the target group.
Image was granted an award in the category Best Visual Appearance in 2018.
The magazine is not afraid to look different. It is impressive rather than beautiful, and its visual appearance is clear and minimalistic. Image looks confident, and the colour scheme and typography throughout the magazine are well balanced. All its pictures are elegant, and the different types of stories have their own clear structures. The light visual appearance, however, does not take the lead role in the magazine and, instead, is used to serve the message of each article.
Reetta Räty was awarded a prize as the Best Magazine Journalist in 2018.
The journalist's smoothly flowing texts capture her audience and are extremely skilfully constructed. She delves into her topics from a number of angles and even manages to add a personal perspective to global issues. Reetta Räty is not afraid to put herself in a vulnerable position as a journalist, and she makes sharp observations and analyses her topics down to the core.
Photographer Antti Vettenranta from Apu received an honourable mention in the category Best Personality Feature in a Magazine in 2018. Antti Vettenranta photographed Jussi Parviainen for Apu.
Furthermore, photographer Sanna Lehto's picture of Linda Liukas for Pirkka number 8/2019 received an honourable mention in the same category as well, and Art Director Anne Ala-Jokimäki and scenographer Tuomas Nortema also played a major role in designing the photoshoot.
Congratulations to all the winners!
View all the Edit 2018 competition winners here.