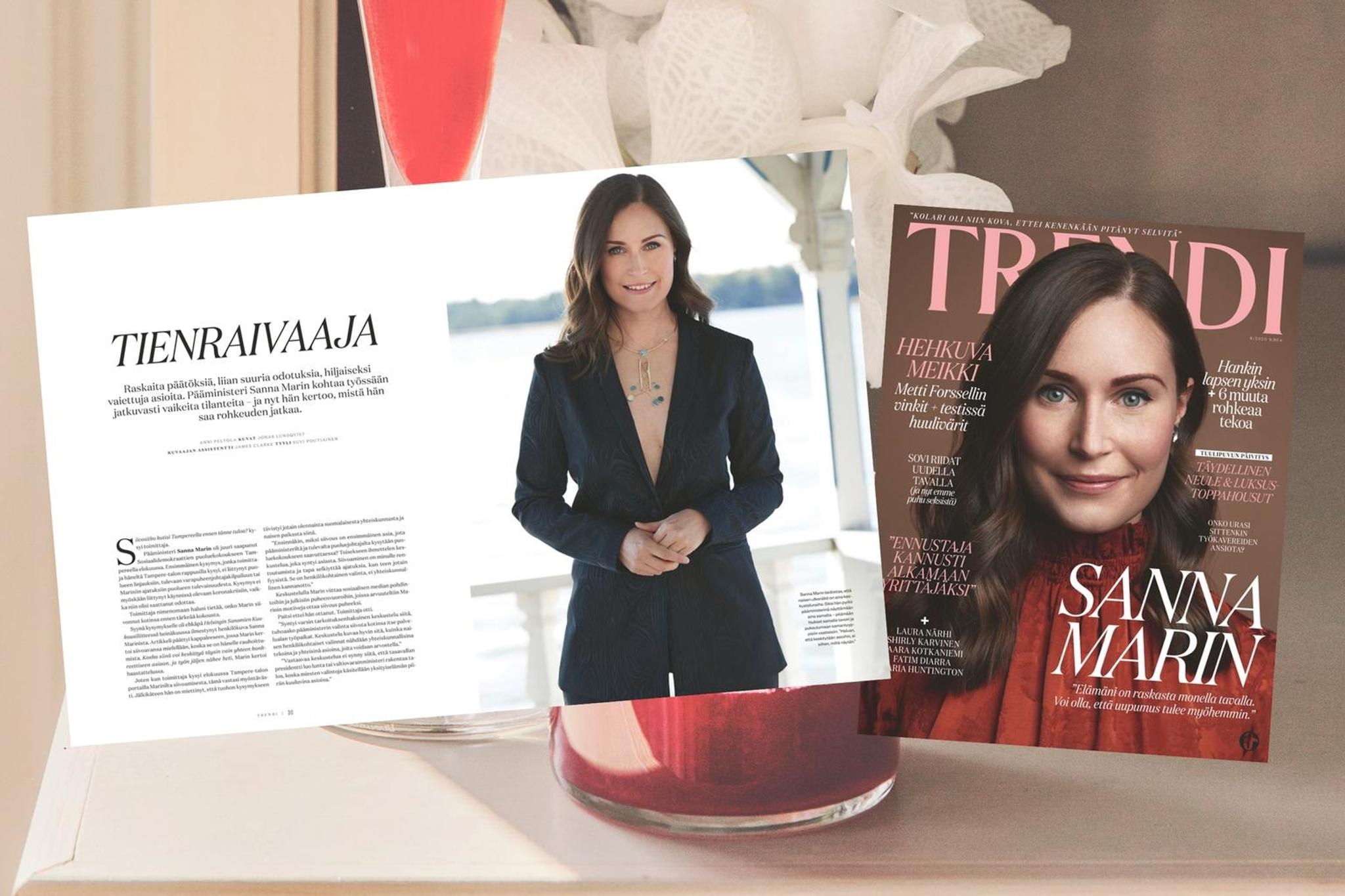 Trendi magazine's photos of Sanna Marin and the ensuing debate on what is appropriate for a prime minister to wear have captured the attention of the international media – the news media's readership alone is estimated at 157 million
Trendi magazine's photos of Sanna Marin and the ensuing debate on what is appropriate for a prime minister to wear have captured the attention of the international media – the news media's readership alone is estimated at 157 million
The photos of Finland's Prime Minister Sanna Marin in the Finnish magazine Trendi have caused a stir in the international media. The debates initiated by these photos on sexism and the limits of what constitutes appropriate behaviour for a politician have started a movement on social media.
The photos of Sanna Marin posing in an open blazer without anything underneath, as part of Trendi magazine's theme on courage, have been shared by all the major international media outlets. According to media monitoring carried out by Meltwater, the reach of the news media alone on this story is so far estimated at 157 million. The story has been covered by CNN.com in the United States, T-Online.de and RTL in Germany, Indiatimes.com and NDTV.com in India, Expressen and Aftonbladet in Sweden, Le Monde.fr in France, El Español in Spain, and London Daily Mail and The Independent in Great Britain. The Times made a comparison of the fuss created over the photos of Marin to the reactions created by stories on the private lives of other world leaders, such as Angela Merkel sharing a potato-soup recipe or Vladimir Putin appearing in a judo uniform. The paper went on to say that few stories have managed to generate such a wide-ranging debate about sexism and the limits of what constitutes appropriate behaviour for a politician.
Comments made about the photos of the prime minister have provoked a strong backlash on social media, especially on Instagram, where the hashtag #imwithsanna quickly gained in popularity. People in Finland and around the world have posted pictures of themselves wearing open blazers without anything underneath as a statement of support for Marin. More than 13 000 tweeters from around the world have commented on this topic on Twitter. So far, #imwithsanna has been shared on Instagram more than 2 400 times.
'The imwithsanna phenomenon is an important next step in the continuum of the #metoo movement and the Be a Lady They Said viral video. Women are tired of being mistreated and having their skills judged based on their appearance. The idea that this movement is already so incredibly widespread demonstrates just how recognizable of an issue it is for women around the world.' - Mari Karsikas, Editor-in-Chief at Trendi.
'I am delighted with how this campaign came about: it was started by individuals and, according to our information, there were numerous people participating who normally never take part in social-media movements. Both ordinary people and public figures have shown their support by posing in open blazers for women's rights. This has included women in support of other women, but also many men participating in a show of solidarity.' - Karsikas.
Photo: Prime Minister Sanna Marin in Trendi by Jonas Lundqvist