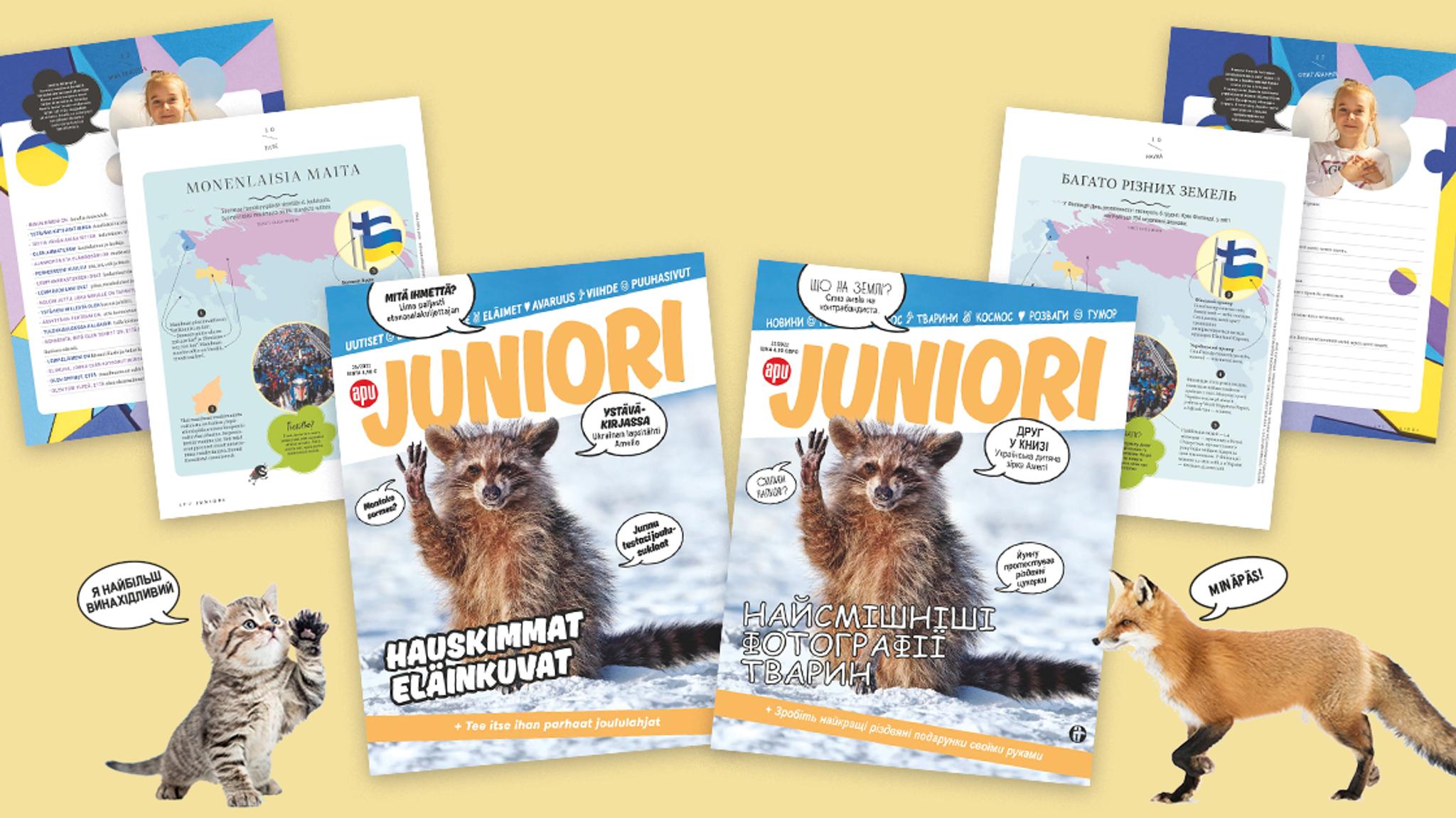 The Ukrainian-language Apu Juniori is distributed to Ukrainian children who have come to Finland
The Ukrainian-language Apu Juniori is distributed to Ukrainian children who have come to Finland
Apu Juniori wants to make Ukrainian children who have arrived in Finland happy. The latest issue of the magazine has been made into a Ukrainian edition, which is distributed to Ukrainian children all over Finland.
The war of aggression against Ukraine awakened the desire to help the children and their families who fled to Finland. The children's science and current affairs magazine Apu Juniori, which will be published at the beginning of December, will also be published in Ukrainian.
"We wanted to offer Ukrainian children something to read in their own mother tongue. Published in two languages, Apu Juniori gives both sides the opportunity to learn something new: Finnish children from Ukrainians and Ukrainians from Finland. We encourage children to make new friends and give advice on what to do when the world's troubles get in the way. There is also the joy of doing things with your hands and making others happy," explains Elisa Miinin, the executive producer at Apu Juniori.
The magazine is distributed to Ukrainian children in cooperation with SOS-Lapsikylä. SOS-Lapsikylä has founded the Ukrainian-language Let's Chat service in the spring and the digital homework help service Domashka in the autumn. SOS-Lapsikylä already has established partners and distribution channels to the Ukrainian community such as schools, aid centres, reception centres, and other integration agents.
"From the contacts that came to Let's Chat, we know how escaping the heavy war and settling in a new country has been for children and young people. That's why we wanted to be involved in offering the opportunity to get to know the new homeland in a familiar language. At the same time, the understanding of Finnish-speaking children of the situation of Ukrainian children also increases," says development planner Tuula Ylänne, who is responsible for SOS-Lapsikylä's work in Ukraine.
The Ukrainian-language Apu Juniori is part of A-lehdet's responsibility programme, one of the themes of which is reducing inequality. Literacy is the key to knowledge and understanding, towards an equal society where everyone matters. Apu Juniori tells about news and phenomena clearly and truthfully without forgetting the joy, humour, and surprise that feeds children's thirst for information.