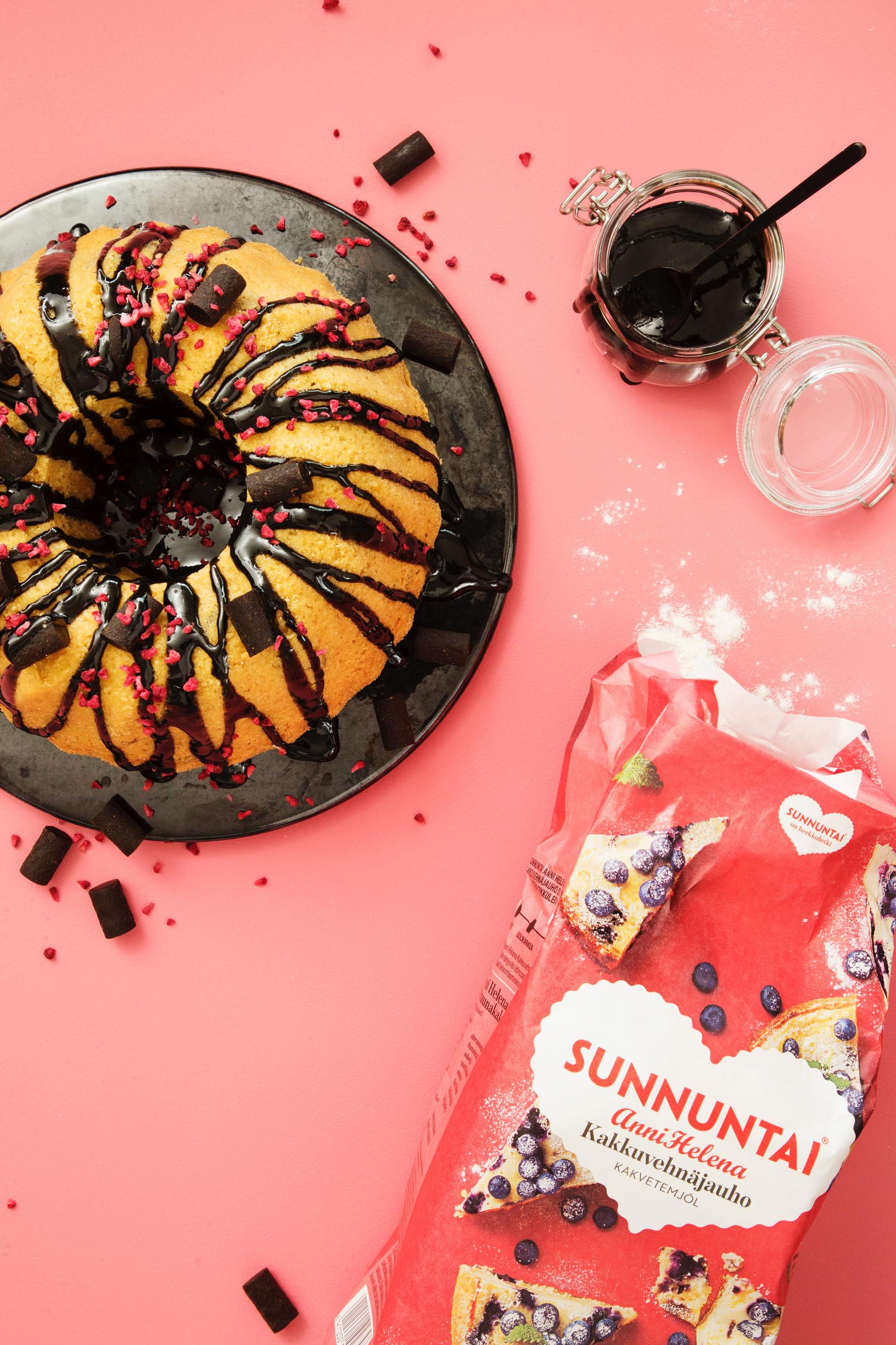 Case Sunnuntai
Raisio redesigned its Sunnuntai flour bags and needed help in increasing consumer awareness. The multichannel campaign reached the target group of younger bakers well.
Starting point
The goal was to make consumers aware of the new visual appearance of Sunnuntai's flour bags with the help of inspiring baking content.
Aim
Increasing familiarity with the Sunnuntai brand and making the brand image appear more youthful amongst the target audience of young home bakers were set as the goals for 2018.
Target group
The target group included all home bakers around Finland.
Solution
The campaign was conducted as a cross-media project. Sunnuntai's Anni Helena wheat flour for cakes was selected as the campaign queen, and the campaign's visual appearance was created based on the bag's new design. The easily recognisable pink colour tied all the channels together into a uniform whole. Pink flour bags were included in influencers' posts, recipe videos and print adverts.
Campaign includes
A tailored theme
4 blog posts (Hanna Sumari, Perinneruokaa prkl, Dr. Sugar and Kriselda)
2 video posts (Elisa Malik and By Selma)
3 advertorials
4 recipe articles
1 native article
3 social media videos
3 newsletters
Display advertising
Instagram and Facebook advertising
6 social media posts on Maku and Kotivinkki's Facebook pages
Fascinating content captured the attention of people interested in baking: a campaign study shows that 92%* of the readers accessed campaign content through multiple channels.
* RESEARCH RESULTS OF THE A-LEHDET READER PANEL
Results
Although the budget posed a challenge, the integrated campaign elements managed to reach the target group of younger bakers cost-effectively through various media channels. Content tagged with the Sunnuntai slogan (Sunnuntai on herkkuhetki) was seen by a total of 123,000 individual visitors during the three-month campaign, and the number of page loads was 225,000.
Visitors spent almost eight minutes on the website, which shows that they found the recipes interesting and used them. The bloggers reached nearly 15,700 individual visitors. The YouTube videos were watched approximately 19,000 times.
On average, the print advert was spotted better. Its creativeness appealed to the campaign's younger target group (16–44-year-olds) in particular. 81% of the readers thought that the advert created a positive image of the advertiser, while 74% liked the advertisement's content and thought it was different.
Hyväksy evästeet
YouTuben videosoitin käyttää evästeitä. Hyväksy evästeet katsoaksesi videon.